Main content starts here, tab to start navigating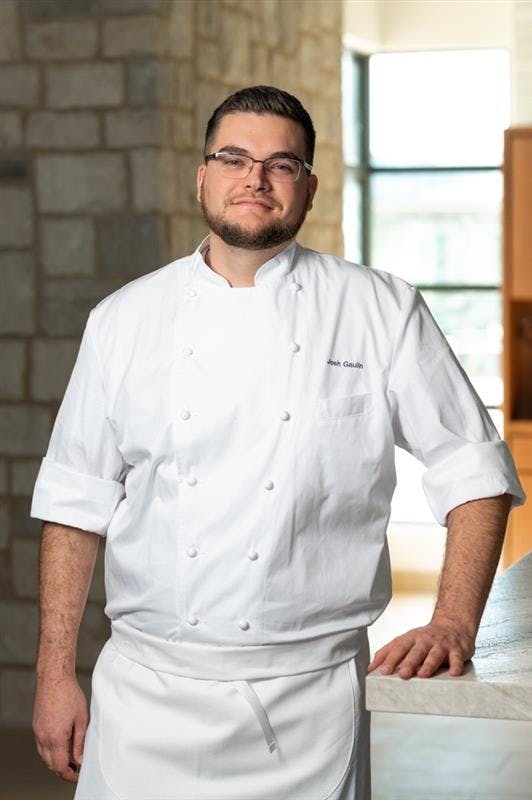 Joshua Gaulin
Executive Pastry Chef
Executive Pastry Chef Joshua Gaulin oversees the dynamic pastry programs at Four Seasons Resort and Residences Napa Valley and TRUSS Restaurant + Bar.
Chef Gaulin seeks to maximize the bounty of fresh produce and ingredients in Northern California to create approachable yet sophisticated and artistic desserts. For the resort, Chef Gaulin oversees the pastry programs for all banquets and events, conceiving classic interpretations of viennoiserie, breads, desserts, wedding cakes, and more, in addition to special offerings for the resort's elevated in-room dining experience. At TRUSS Restaurant + Bar, located on-property, Chef's pastry program features minimalistic presentations combined with depth of flavor, expert techniques, and a nod to nostalgia, to complement the cuisine of TRUSS Restaurant + Bar and enhance the holistic dining experience for guests. His affinity for the artistry of dessert fuels his work, as he finds excitement in the endless possibilities of building a pastry program from the ground up.
Originally from Richmond, VA, Chef began his hospitality career as a server then cook at a private club, where he had the opportunity to learn the basics and stage at notable restaurants in the area. In 2012, he moved from Virginia to Napa Valley, where he worked as chef de partie at the acclaimed three-Michelin-starred The Restaurant at Meadowood in St. Helena, CA. Then, in 2015, Joshua was appointed Pastry Chef at Chef Michael Mina's RN74 in San Francisco, followed by stints as Executive Pastry Chef at Mina's eponymous flagship restaurant, MICHAEL MINA, and three-Michelin-starred Quince. Chef Gaulin points to the mentorship of top-tier talents like Chris Kostow, Daniel Ryan, Michael Mina and Shawn Gawle as helping to guide his career, expand his love for pastry, and enable him to refine his craft.
Outside the kitchen, Chef Gaulin enjoys exploring and dining his way through Sonoma and Napa counties.