Main content starts here, tab to start navigating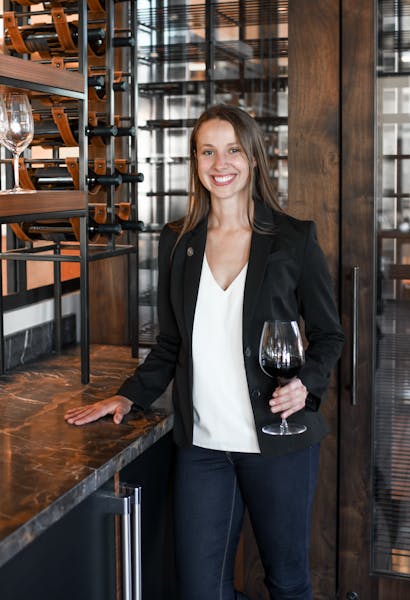 Morgan Gray
Sommelier
Morgan Gray, talented sommelier and hospitality maven, oversees the expansive and exceptional wine experience at Four Seasons Resort and Residences Napa Valley and TRUSS Restaurant + Bar.
At TRUSS Restaurant + Bar – located in the charming town of Calistoga – Morgan seeks to home in on the great wines of California, particularly the greater Napa Valley area, with a special focus on the Calistoga region in an effort to support the community and celebrate the talented individuals who have invested their life's work in the dynamic wine industry. The program seeks to subtly tell a story of the evolution of the wine world, highlighting a combination of classic icons with a newer generation of adventurous winemakers. Guests will enjoy a diverse selection of by-the-glass and bottle offerings, with both international and domestic vintages spanning a range of varietals, terroirs, techniques, viticulture areas, and more. In building and refining the wine list at TRUSS in particular, Morgan ensures the assortment complements the elevated cuisine by TRUSS Restaurant + Bar, with options for guests to drop by for a casual glass by the fireplace or on the terrace, or to enjoy a perfect pairing with dinner in the Dining Room. Morgan's curated wine offerings will also be available throughout the resort within Campo Poolside, in-room dining, in-room wine refrigerators, and Spa Talisa.
Originally from St. Louis, MO, Morgan began her hospitality career as a server at the young age of 16. Having caught the hospitality bug early in life, Morgan has been working in hotels and restaurants throughout the Midwest and South for years. While studying accounting, French, and international relations at Missouri's Webster University, Morgan began working at the Four Seasons Hotel St. Louis. In 2017, she moved to Houston, TX, where she began deepening her wine knowledge and exploring top producers at the world-renowned Pappas Brothers Steakhouse. Upon moving to San Francisco, Morgan joined the team at the acclaimed Restaurant Gary Danko, and in November 2019, on her first attempt, Morgan passed her Advanced Examination through the Court of Master Sommeliers.
Outside of work, Morgan enjoys exploring the outdoors and cooking worldly cuisine.